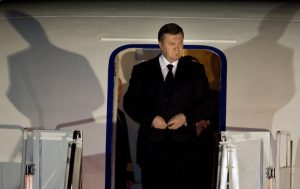 Viktor Yanukovych arriving in Moscow in February 2014
after fleeing Ukraine
By:
Catarina Conti
Legal Analyst
22 September 2017 (Kiev, Ukraine) – So this morning the legal world (and Twitter and pretty much every social media outlet) was abuzz because Paul Manafort arranged for Skadden, Arps, Slate, Meagher & Flom to draft a report that was used by allies of his client, Viktor Yanukovych, the then Russia-aligned president of Ukraine, to justify the jailing of a political rival, Yulia V. Tymoshenko.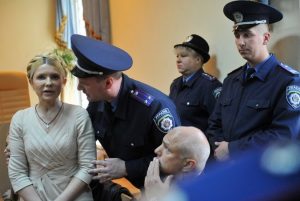 Yulia V. Tymoshenko, the former prime minister of Ukraine, was convicted of corruption in 2011.
International critics said her case was motivated by political reasons and without sufficient evidence.
And now, say numerous media blogs, the report is "coming back to haunt it".
The DOJ has asked the firm for information and documents related to its work on behalf of Yanukovych's government, which crumbled after he fled to Russia under pressure. The request comes at a time when Manafort, his work for Yanukovych's party and for Russian and Ukrainian oligarchs as well as the handling of payments for that work have become focal points in the investigation of the special counsel, Robert S. Mueller III, into Russian meddling in the 2016 presidential election, and connections between Russia, Trump and his associates.
But it's unclear if the Justice Department's request to Skadden is part of Mueller's inquiry. Another pressure point to get Manafort to cut a deal and give Trump up? Based on a conversation I had this morning with an attorney tracking the ins-and-outs of the Manafort investigation:
"Look, Manafort had to leave the Trump campaign because there was a bad smell/trouble in the air. The interest from prosecutors in what Skadden did for the Ukrainian government is one indication of the wide-ranging nature of the inquiries related to Manafort. It also highlights the risks associated with advising authoritarian governments overseas … a very, very lucrative sideline for Washington lawyers. And lobbyists. And public relations consultants"
Many law firms and lobbyists and PR groups ("consultants") will do anything for a buck. As Politico and scores of other pundits have opined, it's a great loophole that permits U.S. law firms lobbying in D.C. for foreign governments to use questionable money stolen from the people of those countries. Will it ever be closed? Nah.
Yep. We are rightly very concerned about Russian meddling in our election, yet it appears a reputable (now previously reputable?) American law firm improperly interfered in a politically motivated prosecution of a government employee in Ukraine. (It is worth noting that both the intended targets of these illegal and immoral efforts are women). The Skadden whitewash report is nothing short of an attempt to meddle in the foreign affairs of another nation, akin to Russia meddling in our elections. Where is the protest? Where is the outrage? I know. Lawyers have it tough … trying to tell the difference between what is  illegal and what is unethical.
And the cesspool runs wide and deep. Was it not John Podesta of Podesta Group … as reported … who helped Manafort in Ukraine and took $1.1 million for the work? The same John Podesta who ran Hillary Clinton's campaign? The one who got his emails "hacked?" And Skadden partner Gregory B. Craig … wasn't he the guy who had served as Barack Obama's White House counsel? And the report was concluded in September 2012 — just before one of Manafort's daughters started work as an associate at Skadden — and released in December 2012.
Ah, corporatism rules. Having learned nothing as a result of imposing regime change in Iraq and Libya by respectively dumping Sadam and Gaddafi we blithely dump the duly elected Yanukovych and precipitate yet another war. This time in Ukraine and precipitate some sort of Cold War with Russia. Someone will surely write a "self examination" piece or book on this decade and the blundering fools at the table feast.
What's new here? Zero. Just another demonstration of the idiocy of the American electorate who allow themselves to be emasculated — and worse — by those with money and power who distract the idiotic electorate with bread and circuses and fear, hate and appeals to tribalism. May the overpaid Skaddens of this world lead us all down the rabbit-hole towards the destruction we so richly deserve.
I am here in Ukraine with my boss for a workshop on Russian cyber security/cyber hacking (what better place!!) and I'll leave the last word to one of the presenters:
Let's be clear. Yanukovych was elected president by the Ukrainian people, in an election never even suspected of being fraudulent, which even the U.S. intelligence community agreed. It was a relatively free and fair election. Yes, he was pro-Russian, but he should have been permitted to serve out the end of his term. Unfortunately, he was overthrown by a mob of hard-line nationalists from Western Ukraine. Had America and the EU not supported that antidemocratic coup Russia would not have gone so ballistic. I am of the opinion they would not have invaded Crimea, they would not have invaded Eastern Ukraine.
Would Putin have still attempted to influence the U.S. election? Yes. As you can read in many of the intelligence blogs leaking info, the Russians were getting into American heads via social media as early as 2014 and 2015. 
Like it or not, the Russians consider Ukraine to be within their sphere of influence. It is their Mexico, and when we meddle there we are only making a enemy out of them, far beyond what would be reasonable. They see the Ukraine-EU association agreement as an act of war; it is a way for Germany to try to steal a country that Russia sacrificed tens of millions of people in order to control.
Whether it is right for one country to control another or influence the actions and politics of another country are not relevant questions to ask. That's simply how the world works. Grow up.
NOTE TO READERS: we'll have a report on our Ukraine adventure in a subsequent post. We've had access to … for lack of a better word … the Russian training manuals on "how to use social media". Fascinating stuff.